WHAT TO PACK WHEN YOU GO HIKING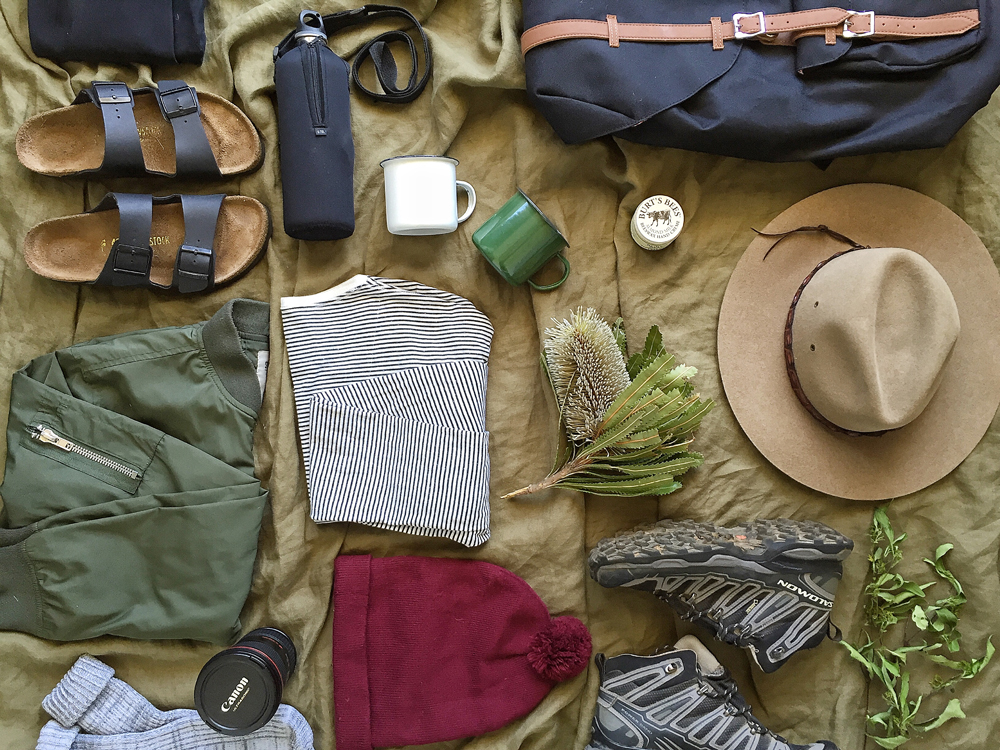 It's been a long time in between packing posts and seeing as I'm doing the Bay of Fires Walk in Tasmania this week (oh my goodness I am so excited) I thought I might share ten tips on what to pack when you go hiking. You guys know how much I love Tasmania, and this is a hike I have been wanting to do for such a long time and I cannot believe I will be doing it this week - woo hooo! Whilst this is not a complete or a comprehensive hikers packing tip sheet, it will guide you in the right direction if you want to pack smart and have a pleasant hike.
PACK LIGHT My number one rule for what to pack when you go hiking is to pack light. Only bring what is absolutely necessary. I have been guilty in the past of packing a few extra things, such as two jumpers instead of one in case it gets really cold. But inevitably, it just means I have to carry more than I need.
TAKE SNACKS The secret to knowing what to pack when you go hiking is to have a good, nutritious breakfast so you don't have to cart lots of snacks with you on the hike. This is the perfect excuse to carb load – hurrah! A hearty bowl of warm porridge with fresh fruit and nuts is the perfect breakfast for hiking. In terms of snacks, dark chocolate, nuts and seeds, fresh fruit and crackers are great lightweight, energising snacks to eat throughout your hike.
BRING A COMPASS AND MAP Whether you're with a guide or not, a compass and a map is an absolute must for any hiker. If you don't have a compass at hand, you can download numerous compass apps straight to your phone. The only catch is that you need to make sure you have enough battery power to be able to use it for lengthy periods of time. I find print maps, for obvious reasons, are the most reliable. But you can always track your location from a GPS Map on your mobile phone. Again, just make sure you have ample phone battery.
PACK A TORCH Always. Whether it's a hand held torch or a head torch, this item is a non negotiable.
CARRY LOTS OF WATER This goes without saying, bring lots of water. Two litres is the minimum amount of water I'll pack for a half day hike, no matter the weather. If you're planning on hiking all day, I would easily double this. It's better in this instance to over pack water than not pack enough.
WEAR PROPER HIKING BOOTS No, the latest Nike Free Runs are not suitable hiking shoes. You need proper hiking boots that give your ankles support. The great thing is that these are worn on your feet, not your backpack so they needn't be factored into the weight of your pack. With that said though, you will need a light pair of walking shoes (I love my Birkenstocks!) when you make it to camp or when you get back to your car. No one wants to wear hiking boots all day long.
PACK WARM CLOTHES A polar fleece, a light warm jumper, a beanie, thermals, hiking socks, warm pants, a long sleeved shirt and short sleeved tees are all essentials for keeping you warm. And usually when it's hot during the day, temperatures drop at night so pack warm clothes wisely.
TAKE SUNSCREEN AND A HAT Don't pack a new bottle of sunscreen if you're only hiking for a day or two. Pour some of the sunscreen into a smaller bottle. And take a hat – not a cap, a hat with a full brim.
ALWAYS PACK A CAMERA If you're like me, a camera is important to take on a hiking trip. Make sure it has a suitable strap which you can swing over you so it doesn't bother you when you walk.
REMEMBER SWIMMING GEAR Should you be lucky to be hiking around a safe creek, beach or waterfall, always pack a swimsuit. You'll want to cool off after a long day of hiking!