DAY TRIP: EXPLORING BEAUTIFUL RAINBOW BEACH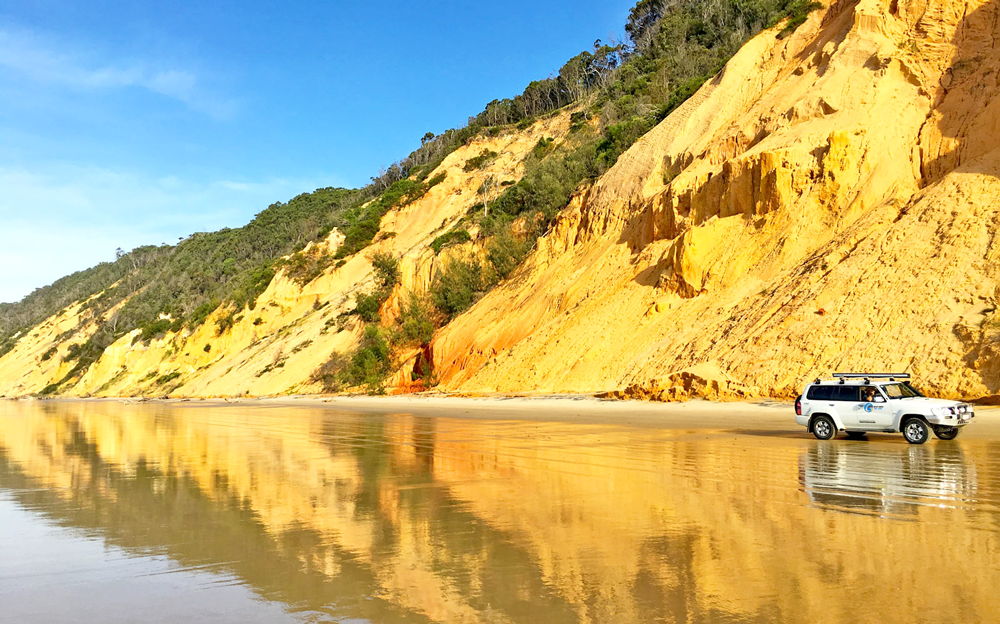 I am so happy to be home for a few days before I head off to Sydney this week to host one of my Instagram workshops! But before I jump on another flight, being able to spend time at home has meant I have been able to explore my own backyard and get to know the beautiful Sunshine Coast even better. I've found there is always something equally stunning and adventurous to be discovered and most recently I embarked on a day trip to Rainbow Beach with the amazing team at Great Beach Drive 4WD Tours. Starting early, my friends and I were met by our tour guide who picked us up in an impressive 4WD for the day. Straight up, we were spoilt with a rainforest drive, through that quintessential Australian native bush I've grown up with, over sand dunes to Rainbow Beach. From here we were taken on a beautiful drive along a 70km stretch of golden sand named 40 Mile Beach Beach from Noosa to Double Island Point, stopping along the way to learn about various iconic spots.
We explored the red and yellow sands that make the world renowned Red Canyon hidden behind the sandy dunes. We were shown the breathtaking rainbow coloured sands, which lends the name to Rainbow Beach. Showcasing over 40 different shades of colour, our informative guide demonstrated how the Aboriginal people used the colours for painting and decorating boomerangs. I couldn't help but fall madly in love with all of the pale pink hues!
From here we made our way up to Double Island Point, which has some of the most crystal clear waters I've ever seen. I honestly couldn't believe my eyes! This area boasts a beautiful, and I really do mean beautiful, salt water lagoon and the scenic Honeymoon Bay. It was totally everything I thought it would be a more. Lucky for us, we were able to drive through the privately locked gates and meander our way up in the 4WD to explore Double Island Point Lighthouse where we were pleasantly assaulted with 360 views from Noosa to Fraser Island.
If you ask me, this tour of the Great Beach Drive is the best way to explore the Sunshine Coast off the beaten track. On our way back, our guide stopped at the south end of Rainbow Beach where we were given the opportunity to relax and enjoy lunch, followed by a swim in the warm shallow waters with a beer in hand. Of course.
TRIP NOTES What: The Great Beach Drive Full Day Tour When: All year round Cost: $135 per adult and $95 per child Lunch: Water and lunch provided – we got our beers at Double Island Point